Since August 2021 Artlink has been part of the Culture Collective, a network of 26 participatory arts projects, shaped by local communities alongside artists and creative organisations. Funded by Scottish Government emergency COVID-19 funds through Creative Scotland, each unique project is designed and driven by the community in which it is rooted. Some projects work to creatively engage with older community members; some provide opportunities for young women and non-binary people to find their voices; and others address disconnection, loneliness and mental health in post-lockdown world.
Follow Our Rules is Artlink's Culture Collective project and our reponse to the post-pandemic world. It supports the exploration of long-term partnerships between artists and individuals with complex disabilities, and the people who support them – promoting new ways of working that have emerged from a grass roots level during the pandemic and casting a light on the use of the arts as a tool for change.
"If a society is ultimately judged by how it treats its most vulnerable, then it is imperative that we take the time to look for equality in our differences and join forces, as together we have a much louder voice".
What follows are highlights of the exploration and experimentation that is supporting postive action in communities, where combining ideas and skills are central to forging a new creative dialogue.
'I want your meat & cheese, blood & pie' PUBLICATION

A collaborative picture book from British artists, Julie Verhoeven and Alan Faulds, whose works – created in response to each other – are layered and collaged together in the publication.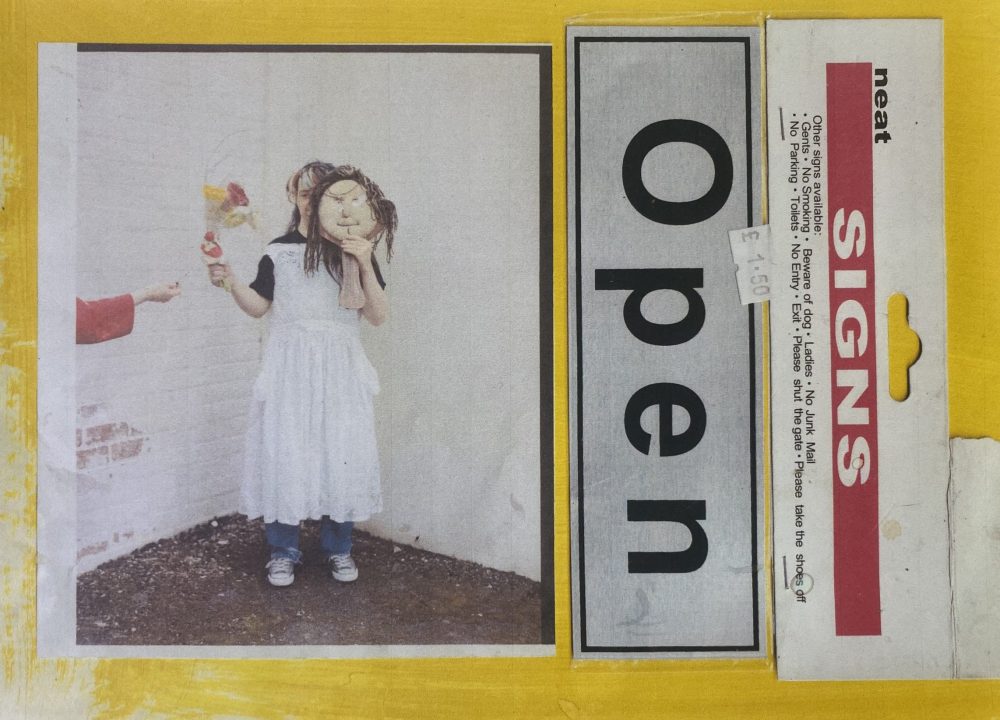 The two share a passion for pop culture, fashion, performance, the macabre and cheesy corn snacks. Their mutual friend, Laura Alridge, from KMAdotcom, a collective of artists with and without learning differences, proposed that Alan and Julie meet online, to see if they could inspire each other during lockdown.
And they did. ''Meeting Alan and riffing off his work has had an immense effect on me and my artistic output'', Verhoeven says. ''I have been re-energised to draw again and care less about the outcome, or how the work is perceived, but to simply enjoy the ride. Alan has a fearless energy and deft skill with the brush and pen. His impromptu performances are infectious and joyful, and this energy has affected my attitude to life and work no end'', Verhoeven explains.
Over the course of 18 months, Alan and Julie met online weekly, created work together, and developed a working partnership . Every week, the pair would prepare sources and inspirations on which they would both draw, and a playlist to which they would dance. In their sessions they would dress up, apply make-up, then come together with their props. There was no clear-cut process of making work however: the duo worked intuitively, amusingly ''flying by the seat of our pants'', as Verhoeven put it.
''Our work in response to each other and together is a riotous, flavoursome mix of fashion, horror and humour, with a cheesy top. We enjoy masquerading and moving to the music and trust that the creative outcome is honest, unfiltered and visceral'.'
The book is a way to formalise their work, but without structure. Drawings, collages and photos of their guises are cut-up and combined on the pages. The publication consists of sketches and outcomes of their meetings, and reflects their developing relationship, documented by photographer Annie Collinge.
5th EXIT EXHIBTION & EVENTS AT HOWDEN PARK, LIVINGSTON

During lockdown we all found new ways of connecting and creatively occupying our time. Computer screens were taken over by the talking heads of Zoom and WhatsApp became our new best friend. In May 2022, 5th Exit presented the work of a group of artists who devised their own ways of keeping in touch to share ideas, make work and create positive strategies for wellbeing.
5th Exit celebrated what the artists had achieved in a changing exhibition of ideas, experiences, and objects. The exhibition was accompanied by a series of workshops and events expertly led by the artists. They wanted you to have the opportunity to be part of a growing network of likeminded communities who are open to new experiences and supportive of each other's potential.
"It is that freedom to just be who you are, and to be able to socialise with other people that get you, that really get you. It's good to feel part of something.''
We asked one of the artists, Peter Johnstone, to make a special issue of Slush Poppy to help document the 5th Exit. Slush Poppy is a zine he has been making since 2018, it usually covers art, music and anything of interest. We think you will enjoy this latest edition.
HUMAN THREADS EXHIBTION & EVENTS PROGRAMME AT TRAMWAY

The Human Threads exhibition was the culmination of many years of collaboration between Artlink and Cherry Road Learning Centre in Bonnyrigg, Midlothian, exploring ways to involve people with profound and multiple learning disabilities in the creative process – through watching, listening and learning from the sensory detail that delights, working intensively to share this with those who care as well as those who are cared for.
"It might seem so simple, a gentle brush on a face, a ball jiggling in a hand – these are all incredibly powerful moments of communication." 
The interactive landscape of light, sound, touch and smell inspired many during Human Thread's three month run that  animated by an extensive programme of performative and musical interventions offered an ever-changing and immersive encounter. The response to the exhibition has been so positive and at times overwhelming.
"In the end it's not about what you are or even who you are. It's about what we are together. That's what's important. The fact that we all need each other, that we need positive relationships, and it is this that makes us human."

Please visit Human Threads perspectives to hear how others experienced the exhibition and the dedicated Human Threads resources page for further information.
SPRING FLING CELEBRATION AT THE ROYAL EDINBURGH HOSPITAL

If you came across a 20 metre long inflatable worm parading through the grounds of the Royal Edinburgh Hospital, what would you do?
If you answered: feed it giant carrots and apples, offer it compost and flowers, and accompany it on its promenade with drumming, music, dancing and chanting, then perhaps you were one of the many people who enjoyed the Worm Walk at the beginning of June. The festival atmosphere of the Worm Walk was the culmination of months of activity that took place during the Spring Fling at the Royal Edinburgh and was a chance for the hospital community to celebrate together.
"The weirdest thing that's happened in my decade and a half at the Royal Ed, but in a really good way. It was something for everyone to talk about!"
During Spring Fling, organisations based at the hospital, collaborated to create a programme of events including lunchtime concerts, art workshops, bird identification sessions, and a reading from acclaimed local writer Alexander McCall Smith. The events took place over several weeks and celebrated the optimism and regeneration of Spring, with many events themed around nature.
"It was just so energetic and joyful!  It was wonderful. I loved it. I lost one of our volunteers. He joined the worm walk and started carrying the worm, and I just thought that was great great fun. And he said he had a fabulous time".
The worm itself was conceived by artists Nadia Rossi and Morven Mulgrew and constructed and decorated by patients and volunteers in workshops at the Glasshouses Creative Hub, as well as workshops on the wards.
Supported by: