EXHIBITION | MAY 11 – AUGUST 28
A large scale, multi-sensory exhibition conceived as an accessible, creative experience informed by individuals with profound and multiple learning disabilities, Human Threads takes the form of an interactive landscape which invites audiences on a journey of light, sound, touch and smell.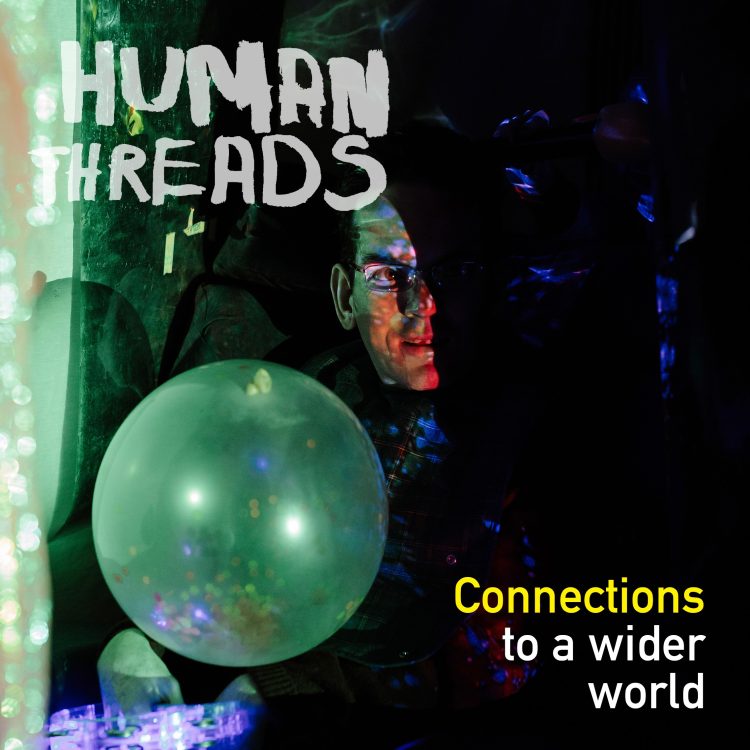 EVENTS AND PERFORMANCES | MAY 14 – AUGUST 28
A series of FREE accessible events and performances designed to animate 'Human Threads'. The events are designed to offer people a very different day out, regardless of the weather.

READING BETWEEN THE LINES | DOWNLOADS
To explore how different perspectives can bring us together we have asked different artists and thinkers to respond to issues that were being unearthed as Covid-19 started to take its toll on our communities in March 2020. Each writer was asked to respond to a simple brief that in some way related to their lived experience, providing the opportunity to open up these issues, to better understand what we could and should have in common.
Click on each image to view or download a printable pdf version (requires Adobe Reader).
PERSPECTIVES
Everyone has their own perspective on the Human Threads exhibition. What follows is a cross section of these experiences – to establish a fuller picture of the artworks and their impact. We learn from taking the time to understand the specifics of involvement, we understand that each person has their own very particular way of being involved. Our intention is to share these different perspectives to establish a more generous understanding of each other and the common ground we share.
Listen to Alison Stirling, Artlink's Artistic Director talk about Human Threads to Ellie and David from RNIB Connect.
IDEAS TEAM
Find out more about the unique arts practices shaped by people with profound and multiple learning disabilties over the last 20 years that have shaped Human Threads.
Behind the Artworks
Human Threads is the first exhibition of its kind, based on the understanding that art is a language shared, a generous site of intersectionality and humanity. The following images and text…
Archive of Ideas
The archive includes the work of many different artists, designers, carers, families and people with PMLD and explores the different ways of working together that has evolved over the years.